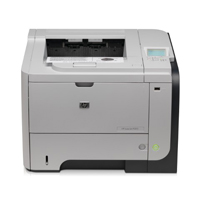 If you own a HP LaserJet P3015, you might find that buying replacement toner cartridges can often be eye-wateringly expensive. If you buy cartridges for your LaserJet P3015 from us however, you can enjoy great savings on your future print costs. We compare prices across the on-line market place on a daily basis, and will never be beaten on price, so you can feel absolutely sure youíre receiving the best possible deal when you shop for your replacement cartridges with us.
Whether youíre looking for single HP black toner cartridges that can print up to 6000 pages or a twin pack of toner cartridges capable of printing up to 25,000 pages, we stock HP LaserJet P3015 cartridges in all available sizes, giving you greater flexibility when choosing the toner thatís the most cost effective for you and your business.
Are you interested in making an even greater saving on the cost of replacement cartridges? Why not try one of our quality compatible cartridges. Built to the highest standards, our own brand alternatives are guaranteed to work in your HP LaserJet P3015, and could save you hundreds of pounds more in the long term.
HP LaserJet P3015 mono laser printer
The HP LaserJet P3015 mono printer is a great general office printer that is capable of efficiently printing around 100,000 pages per month. If you often print more than that then it might affect the efficiency of your printer and you might find that you are spending too much on toner cartridges. We do however offer a great range of
mono laser printers
if you decide to opt for a brand new one.
If you actually print a lot less than 100,000 pages a month, then you will probably again find that your printer isnít working as economically as youíd hoped. The P3015 printer is a great option for those who need to print approximately 500 Ė 1000 pages per day and up to 3500 pages daily.
How long should my HP P3015 toner cartridge last?
There are 3 different cartridge options for the HP LaserJet P3015 printer and hereís a little guide to show you how often youíll need to replace each of the available toners depending on how much you print daily:
Simply pick which cartridge you have purchased from the top row, then pick how many pages you print each day from the left column and scroll across to see how many days your cartridge should last.
*Please note that this information is based on the standard guidelines for print capacity which is 5% or toner coverage on an A4 page. Therefore, if you are printing images or large blocks of shading, your cartridge will run out faster.
How long will your cartridge last?
The following table shows you how long your cartridge will last based on how many pages you print each day*
Pages Printed
CE255A
CE255X
CE255XD
100 Pages
60 days
125 days
250 days
500 Pages
12 days
25 days
50 days
1000 Pages
6 days
12.5 days
25 days
2000 Pages
3 days
6.25 days
12.5 days
3000 Pages
2 days
4.2 days
8.3 days